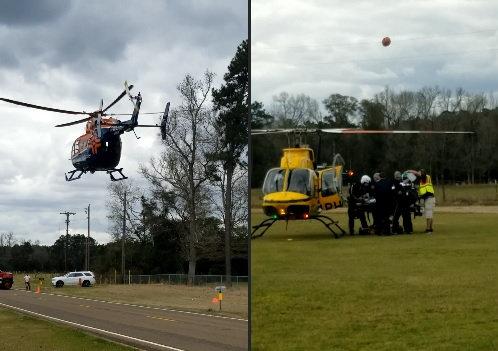 Medical helicopters land in the Vicinity of Ace on Tuesday.
One Person Dead from Tainted Drugs, Others Critical, ACE, March 10, 2020 - According to Polk County Sheriff, Byron Lyons, one person has died and three others were transported by medical helicopter after using tainted narcotics. The drugs (possibly heroin) have apparently been laced with chemicals. Sheriff Lyons posted on the Sheriff's Facebook page that they believe the drugs being used were crystal meth and heroin possibly laced with phentanyl or possibly another unknown chemical. The sordid situation happened on Tuesday in the vicinity of Ace. According to the post, evidence at the scene suggests that the drug users also consumed methamphetamine, and an unknown drug laced with an unknown chemical. In the same day, another user from a completely different subdivision was found to have fallen ill with the same symptoms and was transported to a local hospital. At time of press, the Polk County Sheriff's Office is waiting for pending information from the Jefferson County Medical Examiners Office regarding the deceased user and information from the other users that were hospitalized. Sheriff Lyons asked that anyone with information on the illegal use and sale of narcotics contact the Polk County Sheriff's Office at 936-327-6822 or Crime Stoppers at 936-327 STOP (7867).
If you would like to comment on this story, we'd love to hear from you. Email us at pctletters@gmail.com. Be sure to include the story subject in the subject line of your email, also list your name and town in your letter. Your letter will be posted in

Letters to the Editor

.