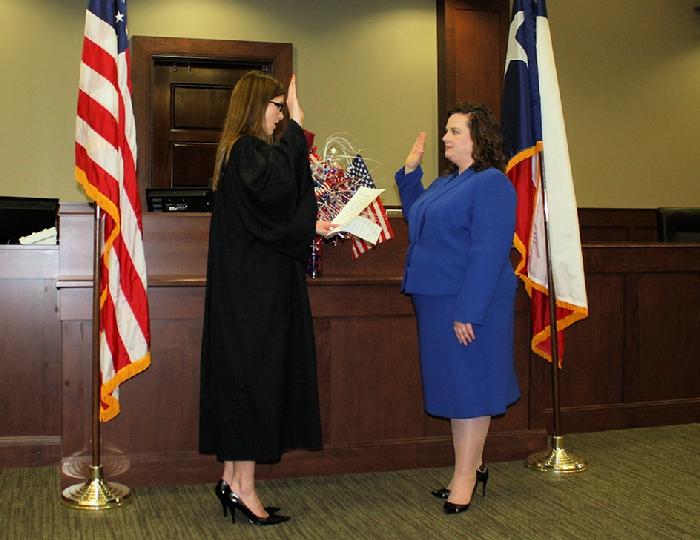 Kaycee L. Jones (right) was sworn in by District Judge, Elizabeth Coker on January 1, 2013.
Kaycee Jones Sworn In as New 411th District Judge, LIVINGSTON, January 1, 2013 - Kaycee L. Jones, who ran against 41th District Judge, Robert H. Trapp in the 2012 elections and beat the longtime incumbent, was sworn in to office on the afternoon of January 1, 2013. Judge Jones was sworn in by 258th District Judge, Elizabeth Coker. The brief ceremony was held in the large courtroom of the Polk County Judicial Center in Livingston. Family, friends, and supporters were in attendance for the ceremony. After being sworn in, Jones donned a new black judge's robe and addressed her audience, thanking them for helping her in life. She thanked one of her school teachers and her former boss, Polk County District Attorney, Lee Hon (among others).
Jones is a 1993 graduate of Livingston High School and attended Texas A&M where she earned a degree in history and English. After teaching for a year at Livingston Junior High, Jones attended Suffolk University Law School in Boston, Massachusets. After graduation from law school, Jones moved back to Livingston where she was hired by the District Attorney's Office in 2002 and worked as an Assistant D.A. until she was elected in the 2012 elections.
At the conclusion of the ceremony and speech, the attendees joined Judge Jones for refreshments and conversation.
After being sworn in, Judge Coker congratulated Judge Jones and shook her hand.
Judge Coker assisted Judge Jones with a new black judge's robe.
Judge Kaycee L. Jones briefly addressed her audience after the ceremony thanking friends and supporters.
If you would like to comment on this story, we'd love to hear from you. Be sure to specify which story. Your name will be posted with your comment in
Letters to the Editor
.