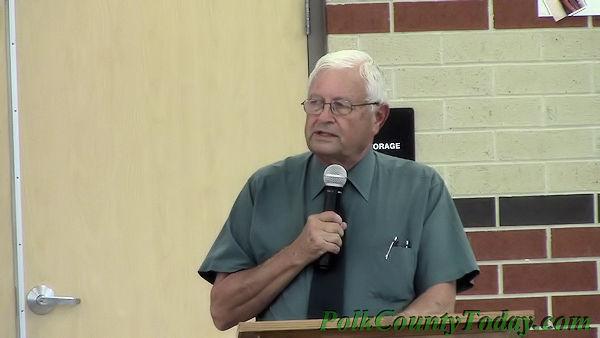 Corky Cochran speaks at Livingston High School Cafeteria on Thursday afternoon (10/04/18).
LISD Dedicates New Facility to Chief Corky Cochran, LIVINGSTON, October 5, 2018 - On Thursday afternoon (10/04/18) Livingston Independent School District dedicated its new track and soccer facility to Livingston Fire Chief, Corky Cochran. The Corky Cochran Track and Soccer Complex dedication ceremony was held with town and county dignitaries, family, friends and many others in attendance. Chief Cochran was quick to give thanks to God for his good health and putting him in a position to be able to serve. Cochran spoke highly of his family, LISD, the Livingston Volunteer Fire Department, and the City of Livingston. In reference to his school years, Cochran said "Twelve years here at LISD. There's nothing that can compare with those years". About his graduating class of 1964 Cochran said "The Class of 1964 is the most special class that ever walked the halls of LISD". Cochran showed humility and only gave credit to others for his achievements; "Being surrounded by good people has been the key to my success" Cochran continued, "It's not things that I've done, it's that I've had good people that made me look good". After he graduated from Sam Houston State, Cochran returned to the town he loves where his first job was with LISD. He coached, and in a very candid moment, Cochran stated "...the greatest regret that I have is that I didn't continue my coaching career (at LISD) for another three or four years".

At the conclusion of his speech, Cochran was given a standing ovation.
Cochran took the reins of Livingston Fire Chief in 1978 (when B.R. Haines stepped down) and continues to serve as Chief to this day. He's a walking embodiment of good will and selflessness. He loves Polk County, he loves the City of Livingston, and he especially loves the Livingston Volunteer Fire Department and the men that he serves as their chief. No matter his standing and prominence in life, Cochran can be seen at ridiculous hours of the night, in inclement weather, helping at the scene of an automobile accident, a house fire, or any other capacity that he can to help make Livingston and Polk County a better place. More than a pillar of our community, Corky Cochran is a powerful column of our community that leads by example and inspires others serve, and truly makes a massive contribution to our town and our county.
If you would like to comment on this story, we'd love to hear from you. Email us at pctletters@gmail.com. Be sure to include the story subject in the subject line of your email, also list your name and town in your letter. Your letter will be posted in

Letters to the Editor

.