Pickup Broadsided by 18 Wheeler, ONALASKA, June 18, 2021 - At approximately 7:15 am on June 18, 2021, an 18 wheeler, driven by Jake Kropik, 35, of Huntsville, was east-bound on US-190 West. As Kropik was passing the subdivision of Cedar Point, a west-bound black 2006 Ford F-250, driven by Robert David Johnson, 86, of Livingston, attempted a left turn into the entrance of Cedar Point. Johnson failed to yield to Kropik. The 18 wheeler broadsided the rear bed portion of Johnson's pickup knocking it into the grass, as Kropik's vehicle left the pavement to the right, and continued through the grass, crashed through a white wooden fence, struck a tree and finally came to rest upright near a pond. Officer Lee Parrish with the Onalaksa Police Department drove upon the scene and radioed to the Polk County Sheriff's Office. Allegiance Ambulance Service was dispatched to the scene along with the Onalaska Volunteer Fire Department Heavy Rescue Unit, and Trooper Chris Cain with the Texas Highway Patrol. Johnson was trapped in his turned over pickup. Firemen used the Jaws-of-Life to cut the roof off of the pickup and carefully remove Johnson from his vehicle. An Air Life air medical helicopter landed on 190 and flew Johnson to Hermann Hospital in Houston. Kropik was physically okay. All traffic on 190 was blocked during flight operations. Johnson's vehicle was recovered by George White & Sons Wrecker Service and will be stored in Onalaska. Kropik's vehicle was recovered by a heavy duty wrecker service out of Huntsville. This accident remains under investigation by the Texas Highway Patrol.
WARNING

: The images and video below show scenes from a violent automobile accident. No blood is visible, however, if pictures of this nature offend you in any way, DO NOT scroll down this page.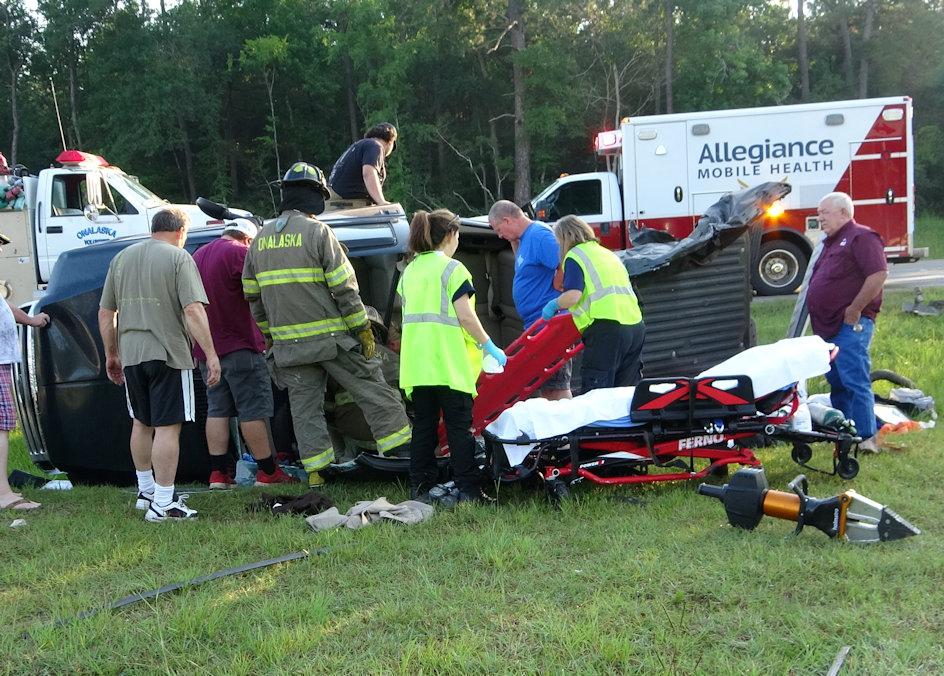 Volunteer Firemen from Onalaska work quickly to safely remove 86 year old Robert David Johsnon, of Livingston, from his 2006 Ford F-250 pickup. Johnson attempted a left turn and failed to yield to an oncoming 18 wheeler near Onalaska.
35 year old Jake Kropik, of Huntsville was driving this 18 wheeler. Kropik was not injured during the crash.
Johnson was loaded into an Air Life medical helicopter and flown to Hermann Hospital in Houston.
Air Life Air Medical Helicopter lifts off from 190 West in front of Cedar Point.
If you would like to comment on this story, we'd love to hear from you. Email us at pctletters@gmail.com. Be sure to include the story subject in the subject line of your email, also list your name and town in your letter. Your letter will be posted in

Letters to the Editor

.