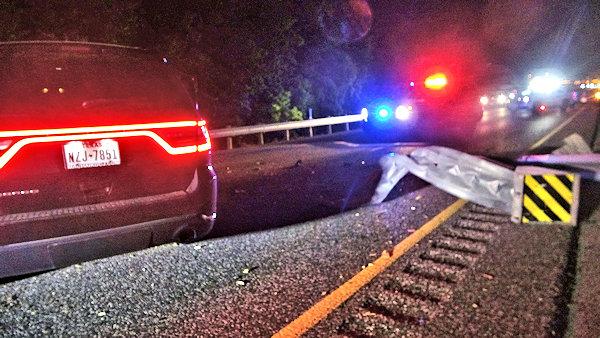 US-59 (south-bound) at Morgan Creek 5:30 am 05/10/21
Driver Falls Asleep, Rolls Vehicle, Takes Out Guardrail, GOODRICH, May 10, 2021 - Shortly before 5 am on May 10, 2021, a black 2017 Dodge Durango, was south-bound on US-59 in the vicinity of Goodrich when the driver, Kenyatta L. Walker, 29, of Alexandria, Louisiana, allegedly fell asleep at the wheel. Walker's vehicle left her lane to the left, slammed into the end of a guardrail at Morgan Creek, and rolled. Walker's vehicle came to rest upright in the left lane facing west. Allegiance Ambulance Service was dispatched to the scene along with Deputies Adrian Ontiveros and Darren Brooks with the Polk County Sheriff's Office, and Trooper Johnny Wilkerson with the Texas Highway Patrol. Walker crawled out of her vehicle under her own power but was in pain. She was transported by ambulance to CHI Livingston Memorial Hospital with undisclosed injuries. Traffic on the south-bound side was partially blocked during investigation and cleanup. Walker's vehicle was recovered by All Star Wrecker Service out of Livingston.

Special thank you: Ken with Ken's Towing
Trooper Johnny Wilkerson investigated the accident.
This 2017 Dodge Durango was driven by 29 year old Kenyatta L. Walker, of Alexandria, Louisiana.
Walker fell asleep, slammed into a guardrail and rolled her vehicle.
Walker was transported by ambulance to CHI Livingston Memorial Hospital with undisclosed injuries.
If you would like to comment on this story, we'd love to hear from you. Email us at pctletters@gmail.com. Be sure to include the story subject in the subject line of your email, also list your name and town in your letter. Your letter will be posted in

Letters to the Editor

.